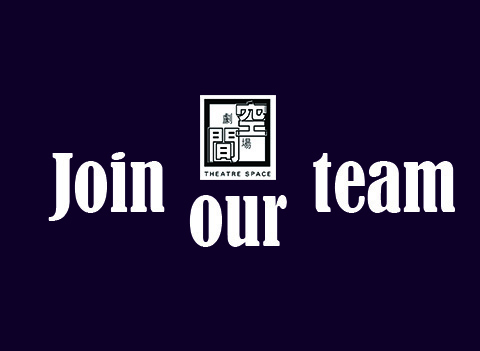 Recruit: Art Administration Manager Trainee
Theatre Space is 3-year grant grantee and financially supported by Hong Kong Art Development Council. Granted by "Arts Administration Internship Scheme", Theatre Space is hiring a 12-months contract intern. Successful candidate who completed the whole period may be offered a renewal contract with pay adjustment.
Duties includes assisting board of directors, directors and manager in daily operation, budgeting, financial report, administrative and clerical work; preparation of board and company meetings; delivering administration supports on performances, projects and protection; performing on show front house works, publicity, ticketing and any assigned tasks.
Qualification:

Applicant should be:
18 years old or above and Hong Kong permanent resident with passion in art administration
with a recognized university degree preferably obtained within the last 3 years in Hong Kong or equivalent (applicant who does not have equivalent qualification but possesses rich knowledge or experience in the field of performing arts may also apply with provision of information in writing)
Good written and communication skills in both English and Chinese
Proficiency in PC operation (MS based applications, Chinese and English words processing is a must
Knowledge in Adobe Photoshop and illustrator would be advantage
multi-tasking, self-motivated, detail-oriented, well-organized and strong analytical skill are required.
Salary and Benefit:
Salary offered will be commensurate with qualifications and experience. Annual leave, medical coverage and mandatory provident fund are offered to successful appointee.
---
Application:
Interested parties, please send your CV with an essay not less than 300 hundred words about your vision and views on art administration and local performing arts; details on education and work experience, stating present and expected salary to info@theatrespace.org.
Deadline: 22nd September, 2019
About us: www.theatrespace.org
Tel: 2540 1011
(Personal data collected will be used for recruitment purposes only.)
Eligible candidates need to attend written tests and interviews.
Applicants not invited for interview within 2 weeks from the closing date for application may assume that their applications are unsuccessful.
"The Arts Administration Internship Scheme is supported by the Hong Kong Arts Development Council"