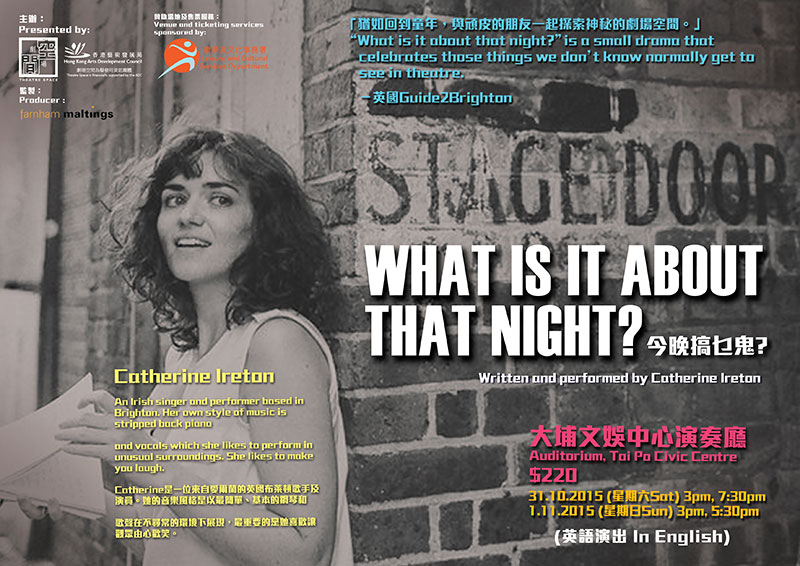 "What is it about that night?" "Going in 4" Discount
10% discount for every purchase of 4 tickets for the same show. (Discount tickets are available on a first-come, first-served basis)
Date and Time:
31/10/2015 (Sat) 3:00pm 8:30pm
1/11/2015 (Sun) 3:00pm 5:30pm
Fee:$220
Venue: Auditorium, Tai Po Civic Centre
Tickets are available from 19 September onwards at all URBTIX outlets, on Internet, by mobile ticketing app and by credit card telephone booking.
In English
Running time is about 60 minutes without intermission. Latecomers will not be admitted until a suitable break in the programme.
No audience seating is available. Audience need to follow actor inside theatre and stage.
Audience should be aware of entering gloomy, confined space and stairs in back stage. Comfortable shoes are recommended.
Programme Enquiries:2540 1011(Theatre Space)/info@theatrespace.org
Ticketing Enquiries:3761 6661
Credit Card Telephone Booking:2111 5999
Internet Booking:www.urbtix.hk
The presenter reserves the right to substitute artists and change the programme should unavoidable circumstances make it necessary.
The content of this programme does not represent the views of Theatre Space.
Venue and ticketing services sponsored by the Leisure and Cultural Services Department